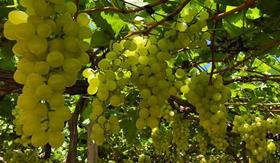 Embrapa, the Brazilian Agricultural Research Corporation, Semiárido has unveiled the first table grape variety to be bred exclusively for production in the north east of Brazil.
BRS Tainá is a white seedless variety with a "'neutral and pleasant flavour", which has been developed to suit the growing conditions in the São Francisco Valley.
At an online event held by Embrapa in late October to present the variety, researcher Patrícia Coelho de Souza Leão described BRS Tainá as the result of "an intense effort to provide the valley's grape growers with a white cultivar for which they don't have to pay the royalties common in varieties developed by foreign breeders".
"The name Tainá has Tupi-Guarani origins reflecting the grape's indigenous roots and is a tribute to Brazil, being reminiscent of the origins of our country," Coelho explained.
It is a fast-growing, vigorous variety with an average yield of 25 tonnes per hectare per production cycle and produces medium-sized bunches weighing around 270g and measuring 15cm x 10cm.
The period from pruning to harvest is around 110 days, with small variations throughout the year, depending on climatic conditions.
"Tainá also stands out for having the desirable characteristics for fresh consumption, namely crispness, firm berries, with good adherence to the pedicel and tiny and imperceptible traces of seeds," Embrapa said.
The taste is neutral and pleasant, with a good balance between sugars and acidity. It has great potential to stand out in the seedless white table market."
BRS Tainá is the first grape to be released by Embrapa's genetic improvement programme, Uvas do Brasil, that has been bred for a semi-arid tropical environment.
Embrapa said the variety is in the process of being licensed to nurseries and will soon be available to producers.