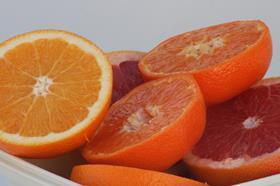 There is no doubt that South African citrus will overcome the crisis created by Covid-19. This is the view of newly elected chairperson of the South African Citrus Growers' Association (CGA), Cornel van der Merwe.
Van der Merwe succeeds outgoing chair Ben Vorster, a prominent citrus grower from Letsitele in the north of the country.
He is currently marketing and packaging director at Komati Fruit, a leading citrus and subtropical producer and exporter, and has served in various senior management positions in the citrus sector for more than ten years, as well as having served on the CGA board for eight years.
"The global health crisis caused by Covid-19 may prove to be a temporary obstacle to our growth, but I have no doubt that we will overcome it," says Van der Merwe. "As food producers, we have a responsibility to both our country and to international consumers to supply food. More importantly, we have a responsibility of ensuring the job security of all our workers, especially during a period of global crisis."
However, he does admit that it will take a long time for South Africa to recover from the coronavirus 19 outbreak. "The CGA needs to ensure that it plays a leading role in ensuring we overcome this crisis successfully, and in a manner that continues to help grow our local economy. I am confident that with the leadership of our organisation, even the most difficult challenges will be conquered, and that we will maintain our competitive position in the global citrus sector.
The changes at the CGA involve the election of a whole new executive team for the next two years.
Its board comprises of 20 directors, representing 15 grower regions, with two directors who represent emerging farmers in the northern and southern regions, a director of government relations and a director who heads up the finance and risk review committee.
According to the Association, outgoing chairman Ben Vorster will remain as a vice-chairman to ensure continuity.
Hannes de Waal, managing director of the Sundays River Citrus Company (SRCC), fills the second vice-chairman position, and is expected to take over as chairman of the board in two-year's time.
Cape citrus industry leaders George Hall and Gerrit van der Merwe have been elected to serve in the two executive member positions.
"The citrus industry is expected to export a record 143.3m cartons in 2020 and is anticipated to grow by a further 500,000 tonnes over the next three years," the CGA stated.
"We faced a lot of challenges over the past two years, which we mostly managed to overcome," Vorster noted. "The industry, along with our other stakeholders, needs to work even more closely together to help our country. We need to play our part in growing the economy and also ensuring our labour force remains safe."
According to the statement the citrus industry is a major contributor to the South African economy, employing some 120,000 people and generating R20bn in export revenue. The further growth of the sector will translate into more jobs and revenue for the country.