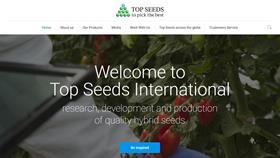 Top Seeds International, the Israeli seed company specialising in the research and marketing of hybrid vegetable varieties, has launched its new website providing trade professionals with direct access to its information.
The company said the website features "elegant and clean graphics and extremely user-friendly interface", and is "an important source of information on the company as well as its products".
The website allows users to browse the company's vegetable products and varieties from a constantly updated database. Individual product sheets contain information on all of its specific characteristics, such as resistance, size and seasonality.
Users can also message company experts directly for more information, as well as linking to the websites of its Italian, Spanish, Mexican and Israeli subsidiaries.
"It was a complex operation and we are very happy with the results. With this new platform we wanted to underline our ability to move with the times, focusing on the needs of producers and offering our partners immediate solutions," said Fulvio Berton, head of global marketing at Top Seeds International.