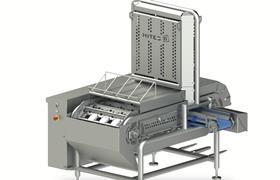 Machinery specialist Kronen says that it will premiere a new innovation for the pepper market at Fruit Logistica, namely the PDS4L system, which was launched by its partner Hitec Food Systems in 2021.
According to Kronen, the PDS4L is ideal for effective bell pepper preparation with minimal labour required. The semi-automatic, compact machine is optimised for preparing and cleaning up to 3,360 peppers per hour.
"The PDS4L pepper de-coring and cutting system is the newest generation of bell pepper de-corers, which has been specially developed to meet the high demands in the modern food processing industry," Kronen states.
"The PDS4L is optimised to de-core peppers and segment them into two or four parts. Thanks to the system two or three people can process up to 750kg/h. This means that by implementing the PDS4L at least two to three people are spared in product preparation."
When using the machinery, the peppers are placed with stems on the cycled product feed, a cleated belt made of stainless-steel plates, making it easy and controllable to place the product to be cut. Four peppers are processed per cycle in the standard version and 14 cycles per minute are run.
Kronen points out that the special product receiving-device means that the peppers remain perfectly aligned during processing.
The peppers are transported to the cutting bridge at a fixed speed, which is also timed and cuts and de-cores the peppers in one step.
The core is pushed downward through the product feed plates and discharged laterally via the fixed waste belt, with the cut and de-cored product dropping either into bins placed on a holder or directly onto a conveyor belt.
The company notes that some of the main advantages of the PDS4L include the reduction in labour costs and the cost-effectiveness of the system's "high capacity and low footprint".
In addition, Kronen says that the machinery is easily accessible for servicing and cleaning, with all covers easy to open.
Moreover the blade, which is used to cut the bell pepper into four segments of approximately the same size, is available as an option. "The knife for halving the peppers, which is used alternatively, is already included in the standard," it adds.