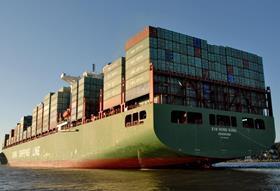 A new weekly container service linking northern Europe with the Far East kicked off earlier this month with the handling of the vessel Xin Hong Kong at the Eurogate Container Terminal in Hamburg.
The new AEX-1/CEM service, a joint effort by China Shipping Container Line and Evergreen Line, operates with four vessels from each company with capacities ranging between 7,000 TEU and 9,600 TEU.
The port rotation for the service is Hamburg, Rotterdam, Zeebrugge, Qingdao, Shanghai, Ningbo, Yantian (Shenzhen) and Hong Kong, with the trip completed in 56 days.
Container transport between Hamburg and Asia reached a total volume of 5.5m containers (TEUs) in 2008, with China (3.1m TEUs) maintaining its leading position among the most important trading partners of the Port of Hamburg.