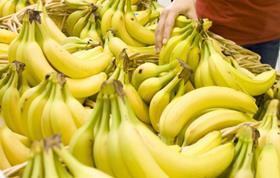 AgroFresh Solutions' RipeLock Quality System will be available at Key Food Stores Cooperative across the US from November.
The RipeLock technology keeps bananas fresh for longer through the combination of a specially-designed modified atmosphere packaging (MAP) RipeLock bag and an ethylene-inhibiting application called RipeLock Active.
"RipeLock is being rolled out to all of our stores in November for our Belinda premium bananas using the tagline 'Don't go naked. I'm better in the bag'," said Wayne Kovacs, director produce for Key Food Stores Co-operative, in a statement released 19 October. "The RipeLock technology will enable our stores to keep bananas at the desired yellow color longer, helping to attract customers, drive sales, minimise shrink, and reduce waste and handling at stores."
"Bananas are the top planned produce purchase and also the number one supermarket impulse buy," added said Kevin Frye, North America Sales Manager at AgroFresh. "By enabling stores to extend the freshness of their bananas, RipeLock not only turns shoppers into buyers and helps drive revenue for their stores, but also increases customer satisfaction.
"Key Food already prides itself in supplying high-quality bananas from Ecuador. Using the RipeLock technology for its Belinda premium bananas will contribute to making a good product even better."
Key Food Stores Co-operative operates was founded in Brooklyn and includes more than 240 member-owned and corporate grocery stores across Long Island, upstate New York, New Jersey, Connecticut, and Pennsylvania.