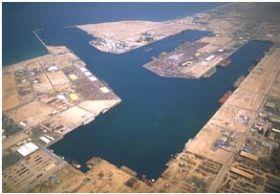 DP World, operator of Jebel Ali Port in Dubai, UAE, has announced that it is building a new US$1.6bn terminal in expectation of a rise in demand leading up to Expo 2020, which was awarded to the city.
Phase 1 of the new Container Terminal 4 will add 3.1m TEU by 2018, the company revealed, increasing capacity at the port to 22.1m.
"The new capacity is a response to feedback from customers expressing the need for more capacity at Jebel Ali due to an expected increase in trade in the run up to Expo 2020," said Sultan Bin Sulayem, chairman of DP World. "Shipping lines will be able to bring more of the world's largest vessels to our terminals so helping improve the efficiency of the region's supply chain."
The new terminal will reportedly have a 1,200-metre-long quay with an 18-metre draft, 13 of the world's largest cranes and 35 automated rail-mounted gantry cranes, according to Gulf News. By 2018, the port complex will apparently have at least 100 cranes, while the length of the quay will measure around 11,000 metres.
Terminal four is being built on a reclaimed island north of Terminal 2, allowing DP World to further expand capacity to 7.8m TEU
DP World also reported a yearly rise of 4.1 per cent in first-half gross container volumes across all its global ports. UAE terminals, including Jebel Ali, handled 7.9m TEU during the six months ending June 30, an increase of 6 per cent compared to a year earlier.