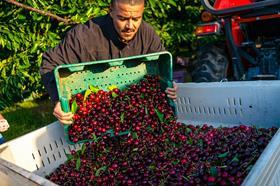 Northwest Cherry Growers are battling an extreme heatwave that has sent temperatures in Washington and other parts of the Pacific Northwest soaring to record levels.
With temperatures reaching 42oC, growers are concerned about the effects of such intense heat on the crop so early in the growing season.
"We are traveling in absolutely uncharted waters next week," BJ Thurlby, president of the Northwest Cherry Growers told The Seattle Times. "We just don't know what this is going to do."
The heatwave comes as millions of kilos of fruit are harvested daily from orchards in Washington and otherNorthwest states. According to Thurlby, cherry growers were gearing up for a positive start to the campaign, with a good quality crop and strong market demand.
Now they fear that cherries at the top of some trees could shrivel, making them unsellable, while in fruit that is not yet ripe, high temperatures could cause cell division to stop temporarily, preventing the fruit from reaching full size.
Local newspapers are reporting that orchardists in central Washington are using canopies, deploying sprinklers and sending workers out to harvest at night in a bid to save their cherry crops from the heat.
With the start of the Washington apple harvest just weeks away, growers fear that the extreme heat could cause sunburn.
Meteorologists said the heatwave has been caused by a dome of high pressure over the Northwest and worsened by human-caused climate change, which is making such extreme weather events more likely and more intense.