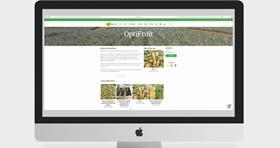 Dominican Gold Fruit, the Dominican Republic-based exporter set up in 2018 to send mainly pineapples and bananas to key markets in Europe, has branched out to set up a new online sales platform for fresh fruit and vegetables.
René Noordam, founder of Dominican Gold Fruit, has joined with Eric Manneke in the Netherlands to create Optifruit, which is attracting new fresh produce suppliers and buyers.
"Last year we developed a sales platform for our unsorted topfruit sales to Eastern Europe," Noordam told Fruitnet. "It enabled our clients to see online the pears we offered, supplied by different producers.
'When we saw how positive our clients were about the platform we began thinking about how to maximise the potential of Optifruit, to include more fruit and vegetables from other producers and exporters."
Noordam admitted there was still scepticism across the business regarding the online trading of fresh produce, but he remained convinced that the online model represented the future of the industry, with change on the horizon.
"After months of development we have Optifruit online and we are positive," he continued. "Every day new suppliers and buyers are registering to our platform. To sign up is free and we are taking only a small fee from each sales agreement."
The first deals using the platform have already been made, he confirmed, with users filling in how they want to receive new offers, through the likes of email or via WhatApp.
"Now we are looking for partners who can take care of logistics and handling," Noordam explained. "For quality control we recently made an agreement with a Dutch company to offer this service to our clients when required."
Noordam and Manneke will continue to develop Optifruit in the coming months, and they have plans to ensure the highest-quality products are traded on the platform.
"We believe that with Optifruit we can give both the producers and buyers a fair price, selling and buying online to create a win-win situation for everyone," he added. "We already have a good base through our own production, and now we want to invite more growers and exporters to use Optifruit."