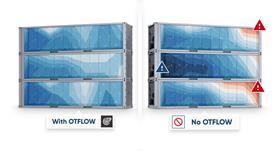 Dutch fruit consultant Otto de Groot has teamed up with the University of Wageningen to develop a new solution to cut food waste and reduce the number of claims resulting from temperature issues during shipping.
Otflow is a patented floor cover that provides the optimal internal airflow during reefer transport. It has been developed primarily for shipping fruit but can also be used for other types of product transported by refrigerated container.
Dr Leo Lukasse, a researcher from Wageningen University, said trials showed that Otflow reduces the temperature difference in containers by 30 per cent, helping to reduce food waste and improving the quality of the transported products.
Since its launch in 2018, customers have reported good results worldwide and today the system is used in 22 countries across all continents. Otflow's largest distributor is Broom Group, which operates in Costa Rica, Colombia, Ecuador, Peru, Bolivia, Chile, Argentina, and South Africa.
"All Otflow's trials with leading fruit exporters have been successful, without exception," said Chris Baard, director at Broom Logistics South Africa.
Costa Rican pineapple exporter Productos Agropecuarios Visa joined Otflow's client network this year. "Quality is of the utmost importance to us and Otflow has given us good results to achieve this so far," said Visa's quality control manager Heyzel Nuñez.
This year Otflow also launched a digital airflow simulator for refrigerated containers.
"This model not only validates the benefits of the system's air circulation, but also enables us to advise high-volume clients with custom solutions," the company said.
The technology has won several prizes, including being named in the top 100 most innovative companies and top ten most sustainable companies in The Netherlands.