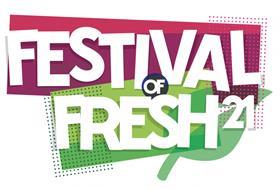 More than 60 experts from across the fields of production, supply, business, retail, science and health will come together next month at the inaugural Festival of Fresh.
The new online event on 13 July is a celebration of the UK fresh produce industry and puts the spotlight on industry issues, new technology, best practice and business leadership, helping to take the sector to the next level. The Festival is organised by FPJ and is backed by the NFU, British Growers, British Apples & Pears, British Summer Fruits, The National Fruit Show and Worshipful Company of Fruiterers.
Festival of Fresh allows registered delegates to build their programme of content to match their personal interests, with videos available to watch on-demand after the event. There are opportunities to chat, interact and network using Fruitnet's advanced event platform.
Two simultaneous tracks of content focus on Business & Industry and People & Places, with topics as diverse as sustainability, the road to net zero, science, technology and health.
Speakers confirmed for the event include:
PRODUCTION & TRADE
Following an opening address by NFU presidentMinette Batters,industry leadersLee Abbey(NFU),Ali Capper(NFU and British Apples & Pears),Jack Ward(British Growers) andNick Marston(British Summer Fruits) will discuss a range of issues from margins and profitability to the opportunities to grow the industry.
Dave Bench, chief executive of the Crop Protection Association, will talk about issues facing chemical protection for fresh produce at this crucial time for the industry.
Beanstalk Global'sMax MacGillivraywill host a special chat looking at how the wider agriculture industry is dealing with the big issues of the day, featuringDr Belinda Clarkefrom Agri-TechE,Emily Nortonfrom Savills andAnna Harrisof Stein IAS.
THE ROAD TO NET ZERO
The theme of sustainability and climate-friendly farming will be the focus of this session, with speakers including LEAF chief executiveCaroline Drummondand Barfoots' MDJulian Marks.
WRAP's fresh produce specialistWill McManusdiscusses waste reduction, while an exclusive consumer survey into attitudes around food waste will be unveiled by England Marketing'sJan England.
There will be a spotlight on new fuel sources with a presentation fromChris Jackson, chair of the UK Hydrogen and Fuel Cell Association.
SELLING IN 2021
The world of retailing continues to evolve at pace, and at the Festival of Fresh we have the newest developments on show.
Kantar'sJoe Shaw Robertswill update the industry on the latest grocery and fresh produce market performance, while retailing expertBryan Robertsgives his view of the state of the market.
M&S head of tradingLisa Raschiagives FPJ MDChris Whitean exclusive look into the latest innovations at the retailer, and Oddbox founderDeepak Ravindrantalks about his company's extensive efforts to educate and engage consumers in the fight against food waste.
Birds Eye agriculture managerJames Hopwoodalso joinsJohn Hurstof pea supplier GPC to look at the growth of the frozen vegetable sector and how the branded giant is promoting fresh produce consumption.
BETTER BUSINESS
How to market effectively, and improving the health, wellbeing and performance of staff will all be topics up for discussion in the Better Business session.
On the marketing front, Sunny Side Up's MDZoe Ward-Waringdiscusses the successful Love Fresh Cherries campaign, and Coregeo's head of marketingMichelle Evanstalks brand building in fresh produce, drawing on her experience of helping take Pink Lady and Tenderstem to the top of the bestseller charts.
Looking at staff welfare, business coachJoanne Wheatleyexplains how to motivate and engage employees, while RABI chief executiveAlicia Chiverstalks mental health at a time when farmers are under huge emotional strain.
Performance growth coachLeon Mundeylooks at how to get the maximum out of your business in an interview with FPJ editorFred Searle.
And some of the industry leaders of tomorrow will be introduced, as LSA fellowship scheme leaderCoral Russellchats to up-and-coming starsRebecca Smith(Valley Produce),Valeria Kiss(APS Produce),Matt Boyns(Bakkavor) andLibby Rowland(Vitacress).
THE GREAT HEALTH OPPORTUNITY
The fresh produce sector has never been in a better place to meet the nutritional needs of the nation as government health strategies combine with a drive for plant-based eating to boost the industry.
Marcela Villarrealfrom the UN's Food & Agriculture Organization, tells Fruitnet'sMike Knowlesabout the aims of the International Year of Fruit & Vegetables.
Fred Searle will host a discussion featuring Alo Solutions'Barbara BrayandJulie Cleijneof Sustainable Kitchen Consultants looking atissues around health and nutrition.
Veg Power bossDan Parkerwill give an update on the groundbreaking Eat Them To Defeat Them industry campaign, while FPJ will have an exclusive interview with gold medal-winning OlympianJessica Ennis-Hill, who is working as an ambassador for Berry Gardens in the run up to the Tokyo Games.
SCIENCE & TECHNOLOGY
Everybody wants to know what the next big technological innovations will be, and the Festival of Fresh has got you covered.
In a special programme hosted bySimon Pearson, founding director of the Lincoln Institute of Agri Food Technology, PhDs will outline their work in a series of punchy poster sessions. They includeRoopika Ravikanna(maximising availability of transportation robots through intelligent allocation of parking spaces);Christopher Page(procedural generation of strawberry plants);Rajitha De Silva(vision-based navigation system for row crops); andLaurence Roberts-Elliott(research in multi-robot mapping of soil properties).
Fred Searle will host what is set to be a lively debate on gene editing in horticulture, with panellists includingCathie Martin(John Innes Centre), Tom Bradshaw (NFU),Steven Jacobs(OF&G) andLiz O'Neill(GM Freeze).
Fred also talks toPål Johan Fromof Saga Robotics about the Norwegian outfit's latest innovations in horticultural automation.
And how about aeroplanes made out of carrots? It sounds far-fetched, but a Scotland-based company has developed an extraordinarily powerful material from waste vegetables.Christian Kemp-Griffin, chief executive of Cellucomp, tells us all about it.
We will also see examples of new technology, including theRobottiandSlopehelperrobots, B-hive's HarvestEye system andJanny MT'sinnovative storage unit for fresh produce.
WORLD OF FRESH PRODUCE
Fruitnet's team of global reporters bring Festival of Fresh interviews with leading figures from around the world.
Luisa Cheshire speaks toRobert Budiantofrom Java Fresh in Indonesia andNina Patilfrom Fresh Express in India to hear about their latest innovations.
Luisa also hears from Fresca'sStuart Anselland Fresh Domain'sBrett Jacksonabout the two sides' tieup in Asia.
Michael Barkerhears how the new trading environment is going down in the EU from Belgian organisation VLAM's Brexit expertWard Verberck.
And Fruitnet managing editorMaura Maxwellbrings the latest news from Spain and Latin America.
THE BIG CHAT
Closing the day off will be a series of interviews with fascinating individuals from across the business.
They includeAlan Walshfrom Walsh Mushrooms giving his view of the growing mushroom business and the new trading relationship post-Brexit.
British Summer Fruits' chairNick Marstonreflects on 25 years of the industry body and the phenomenal growth of soft fruit.
National Fruit Show chairSarah Calcuttinterviews industry titanTheresa Wickhamabout her life in the industry.
Looking at what the fresh produce sector can learn from others, Ed Salt, MD of Delamere Dairy, will discuss sustainability and making a success of exports with Promar International's John Giles.
And Norton Folgate MDMatt Hancocktalks to young Fruiterers who are making a real impression in the trade.
Further speakers will be announced shortly.
The Festival of Fresh is free to delegates in the UK and globally, and offers the opportunity to chat, network, interact and help shape the future of the industry.
Seewww.fpjlive.comfor further information and to secure your place, and sponsorship opportunities are available by emailingfestivaloffresh@fpj.co.uk.