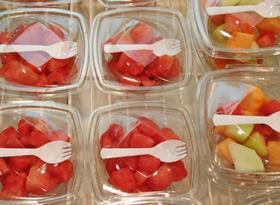 Demand for fresh produce packaging will grow 3.3 per cent a year through to 2017, according to a new study into the US packaging industry.
The study said that growth is driven by consumer demand for convenience in the prepped fruit and vegetable category.
Highest growth will be in breathable bags for fresh cut produce and display-ready pouches, the study found.
Demand for bags and liners is predicted to grow at a pace of 3.5 per cent annually for the next four years.
The corrugated box category, which represented 38 per cent of the produce packaging market in 2012, should grow by 2.3 per cent per year in the period through to 2017. The study said that corrugated sales will be boosted by the increased use of more costly box structures such as modular boxes, white top linerboard boxes, high-graphic boxes and moisture-resistant recyclable boxes.
Report author Esther Palevsky said increases in the availability of ready-to-eat fruit marketed as a convenient, healthy snack option will push fruit packaging demand higher.
She said: "The use of packaging for fresh-cut pineapples, berries and other fruit is a significant factor in the expected growth of fruit packaging."
Packaging for vegetables will benefit from new product introductions in the prepared category. "Products like green beans, sweet potatoes and squash are seeing more value-added retail packaging," she said.
She added: "For vegetables, there are more products that go in bulk form, in a box with a liner or a mesh bag, as opposed to use of plastic containers."
Salad packaging will be held back by market saturation and price sensitivity among consumers, according to the study.
The report used data from the US packaging industry for 2002, 2007 and 2012, and created forecasts for 2017 and 2022 by produce packaging type. It was carried out by Ohio-based market research firm Freedonia.