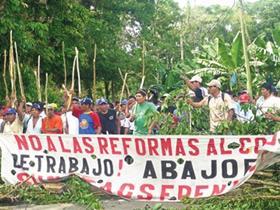 Some 4,500 workers at Chiquita's east coast Panamanian subsidiary Bocas Fruit Company (Bofco) are reportedly continuing an indefinite strike over the introduction of controversial new labour legislation.

Since 2 July, the strikers have apparently closed off various streets and bridges connecting the Bocas del Toro region with other parts of the Central American country, according to local media reports.

As a result, activities in the area (especially the banana business) have been paralysed, with losses at Bofco allegedly rising to US$2.5m.

Workers are striking over the introduction of Act 30, which, among other points, restricts the right to strike and makes trade union rights more flexible. The situation has also been intensified by Bofco's apparent refusal to pay workers during the stand-off.

Yesterday (Tuesday 6 July) Panamanian Labour Minister Alma Cortés announced a deal with Bofco's workers' union (Sitrabanaa) under which Bofco agreed to pay adequate salaries (for the time workers have been on strike) to those who return to their jobs.

However, Sitrabanaa general secretary Genaro Bennet has denied any agreement, according to a report in El Siglo, adding that the workers will continue to call for the abolition of the new law.

Bofco general manager Jorge Moya has reportedly said around 330,000 boxes of bananas, worth some US$2.5m, have not been exported since the strike began.

Additionally, Mr Moya claimed business in the city of Changuinola (based in Bocas del Toro) is losing US$600,000 a day.