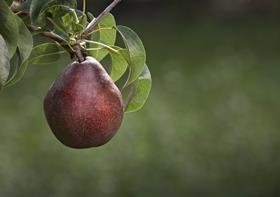 The first official crop estimate for the 2021/22 US Pacific Northwest pear season points to a packout of 16.1m cartons.
The Northwest harvest got underway in early August with summer varieties like Starkrimson and Bartletts. Growers will begin picking Bosc, Green and Red Anjou over the coming weeks.
Specialty pears like Comice, Seckel, Forelle and Concorde will be available from September.
The organic pear estimate is 1.94m cartons, nearly 12 per cent of the total projected Northwest crop.
"Pear growers are reporting an excellent quality crop this season with some saying it is the best they have seen in a decade," said Kevin Moffitt, president and chief executive of Pear Bureau Northwest (PBNW).
"The fruit finish for this year's pear crop is outstanding with beautiful shape and high sugars. These attributes make for remarkable eating quality leading to a high level of consumer satisfaction.
"There will be a full range of sizes available, including popular large-sized fruit, smaller sizes to fill the trendy pouch bags, as well as sizes to fulfill export market demand."
Jeff Correa, PBNW's director of export promotions, said his team has looked for innovative ways to reach consumers and build on the success of the past season with its digital consumer outreach activities.
"PBNW has shifted its marketing focus to more digital consumer outreach last season and will continue that promotional pivot into the upcoming season," Correa explained.
"PBNW will have a good promotional presence in 20 export markets, with more promotional focus and priority to the close-proximity export markets – Mexico, Canada and the Central America region – which have been the leading export markets for the industry."