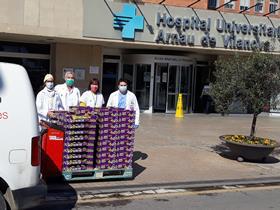 The Pera de Lleida (Lleida Pear) Protected Denomination of Origin has delivered more than 4,000 conference pears to health workers in Lleida.
The PDO's Regulatory Council said the distribution of fruit was carried out jointly with the heads of the Lleida health institutions, with 2,000 pears going to the Arnau Hospital in Vilanova de Lleida, 1,000 more to the Hospital Santa and the remaining 1,000 pears to the CAP de Ferran.
Gerard Pujol, president of the Regulatory Council said: "With this delivery, I personally and on behalf of the entire council and our producers want to join the tribute to our health workers in recognition of their work.
"Beyond the well-known healthy properties of our pears, we would like to bring a bite of happiness to the spirits of our workers, and we do so by offering them what we have most at hand, a piece of nature."