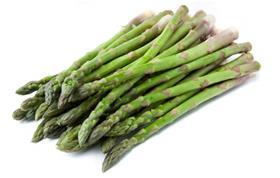 Imports of Peruvian asparagus into Canada are expected to significantly increase following the establishment of a new protocol for some US companies to carry non-fumigated product across the border.
US produce grower-importer-distributor Alpine Fresh said it is paving the way for more non-fumigated Peruvian asparagus exports to Canada, after becoming one of the first produce companies to obtain an in-transit permit from the United States Department of Agriculture (USDA).
The group claims to have shipped the first 12-tonne consignment on 7 November from the group's US base in Miami, Florida, according to a press release from the company.
"We jumped at the opportunity to be the first asparagus company to ship untreated Peruvian asparagus from the Port of Miami, through the US, and beyond the Canadian border," explained promotions director, Ashley Yager.
Alpine Fresh said it has played a key role along with Nelly Yunta of Customized Brokers, and others in the industry in the ongoing process to obtain this permit and acquire authorisation and approval from the USDA.
"This new protocol by USDA will significantly increase the shelf-life of transiting fresh asparagus, while helping to keep the logistics cost down," noted Walter Yager, CEO of Alpine Fresh.
"Previously, non-fumigated asparagus had to be transshipped thru New York or airlifted directly to Canada with very limited space on aircrafts and at a significantly higher cost."
Ashley Yager added that the new permitis a "significant milestone" for the Peruvian asparagus industry and a "testament" to what the industry can achieve when it works together with the USDA towards advancing the logistics process.