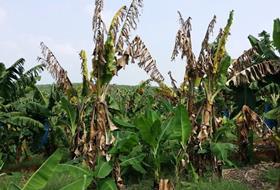 Peru has activated an emergency plan after tests confirmed the presence of Fusarium wilt Tropical Race 4 on a plantation in Piura.
On Monday, the country's National Agricultural Health Service, Senasa, issued a statement corroborating the discovery of the soil-borne fungus on a 0.5ha field in the province of Sullana, and announcing the adoption of urgent measures to control the outbreak in an area of 170,000ha of production.
The entire country has been declared a state of phytosanitary emergency and Senasa is working with the National Banana Board and the Regional Banana Technical Board to implement biosecurity measures across thousands of banana farms.
Senasa said the biosecurity plan would seek to protect Peru's banana export industry, worth around US$248m a year. In 2020 Peru exported 211,162 tonnes of bananas – mostly organic – to more than 20 markets worldwide.
The discovery of TR4 in Peru comes less than two years since the first ever case of the fungus in Latin America was reported in northern Colombia in July 2019, putting the whole of the continent on high alert.
This week, Patricio Almeida, the executive director of Ecuador's plant health authority, Agrocalidad, ruled out the presence of TR4 on Ecuadorean soil.
"The Agency has taken all preventive actions immediately to prevent the fungus from entering Ecuadorean territory, we have the best network of laboratories in the region, with the capacity to process 1,000 samples per month," Almeida told El Universo.
Fusarium TR4 is a serious threat to banana production, attacking the roots of the plants and blocking their vascular systems, causing them to wilt and die. But the fruit poses no risk of transmission or to human health.