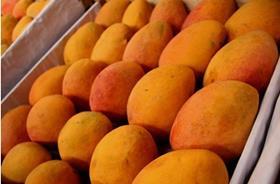 Peru is on course to export between 220,000 and 240,000 tonnes of fresh mangoes in 2021/22 according to the Peruvian Association of Mango Exporters (Apem).
This would put shipments broadly in line with the last two seasons. Exports totalled 217,000 tonnes in 2020/21 and 237,000 tonnes in 2019/20.
Apem's general manager Juan Carlos Rivera said 60 per cent of the export total would be destined for the US, 30 per cent to Europe and 10 per cent to Asia and Latin America.
Sea shipments of Peruvian mangos totalled 689 tonnes in October, an increase of 29 per cent on the year-earlier period, according to FreshFruit.pe.
The consultancy said although the 2021/22 campaign had got off to a stronger start than the previous year, volumes were still below pre-Covid levels. A total of 789 tonnes were shipped by sea in October 2019.
Together, Canada and France accounted for 65 per cent of shipments. Exports to the former reached 369 tonnes, 9 per cent up on the previous year.
Shipments to France were 30 times higher than in October 2020, reaching 81 tonnes.
Unlike other products, the mango begins the season with early exports from Piura to Chile by land, but the statistics are not available until the end of November.
Normally, exports to Chile in October make up the lion's share of total mango shipments, but in the previous season the restriction of borders limited this volume, so it is expected that this season it will recover.
Peru Has around 35,000ha of mango production, the bulk of which (80 per cent) is located in Piura, 10 per cent in Lambayeque and 10 per cent in Ancash.