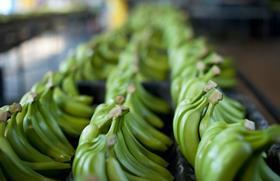 A producer association from Piura in northern Peru carried out the first shipment of organic bananas to the Portuguese market last week.
The consignment of 1,080 boxes from Asociación de Banananeros Orgánicos (BOS), was packed under the Peru country brand. It was handled by importer Positive Gravity and distributed to retailers including Continente, Pingo Doce, Intermarché, Brio and Barn.
BOS said it expected to send eight to ten containers per week to Portugal, where demand for organic bananas is projected to increase.
The company is also looking to open other new markets in Europe and is planning to carry out shipments to Spain and Poland later this year.
Peru exported 188,000 tonnes of organic bananas with a value of US$143m to Europe, North America and Japan in 2015, an increase of 19 per cent on the previous year according to data from the Banana Regional Technical Committee.