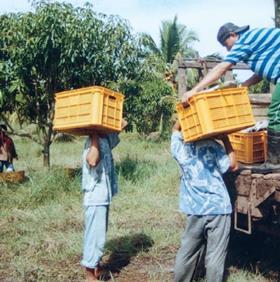 The US is set to widen market access for Philippine-grown mangoes, according to a report in The Philippine Star. At present, only mangoes produced in the Guimaras Islands are permitted to be imported into the US but agriculture secretary Proceso Alcala said export accreditation was being expanded to cover a number of other production areas.
Alcala said the US Department of Agriculture had already approved the new rules and was in the process of finalising the regulatory requirements. It means mangoes grown in Pangasinan, Zamboanga del Norte, Batangas, Cebu, Ilocos Norte, North Cotabato, and Iloilo among others could soon be available in the US. However, fruit from Palawan is still banned due to the existence of pulp weevil on the island.
The agriculture secretary said he hoped the move would attract more investment in the Philippines' mango industry. At present, domestic production cannot keep pace with local demand.
"The domestic supply of mango cannot fully satisfy domestic demand, but it would be beneficial for producers if we have additional market access," he commented.
Alcala added that the US and Philippines authorities are also looking at ways to boost banana exports to the US mainland and its defence commissaries within the Asian country.