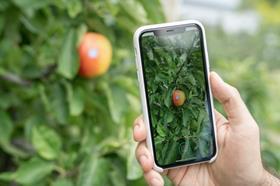 Agtech startup Pixofarm, the digital precison farming solution that aims to provide farmers with reliable yield monitoring and forecast data, is spreading its wings after its European clients reported positive results after using the app in their orchards.
This successful use in Europe has, according to the company, sparked interest in the Southern Hemisphere, with producers in Chile, South Africa, Australia and New Zealand now interested in adopting the app.
Pixofarm uses artificial intelligence to digitalise fruit counting and fruit size measurement processes with a smartphone application, providing accurate yield estimations.
Growers use their smartphones and the mobile app to take pictures of a sample of fruits and trees, before receiving, in real-time, reliable information on the current average diameter, daily growth rate, predicted diameter, size class distribution and total yield estimation.
"Growers are clearly looking for a smart and flexible approach in this area," said Farid Edrisian, chief executive at Pixofarm. "There is no reason to count and measure fruit manually, when growers can have all the benefits of a smart solution immediately on their own smartphones."
According to Pixofarm, using its app offers a number of features and benefits for growers, such as monitoring fruit growth and fruit count to help growers take appropriate measures and use resources more efficiently; getting reliable forecasts on size class distribution and total harvest volume weeks in advance; and increased planning and efficiency of operational activities like packaging or logistics, as well as marketing and sales.
The company was founded in 2019 in Austria and today has clients in countries including Italy, Austria, Germany, the UK, the Netherlands, France, Spain and Poland. It is now focusing on expanding into the Southern Hemisphere.
"Being in touch with many growers and organisations in this sector helped us a lot," says Edrisian explained. "They provide us with valuable insights based on their experience and we can adapt the product to meet theirs needs. It is great to see that there are many innovators among the growers, and we hope to meet many more on our path.
"We hope to get many clients on board this season, as we are keen on bringing more value to growers and support the way they take their decisions," he added. "We know that the data we provide can create huge values for both growers and organisations. Moreover, we support the growers to be more sustainable by helping them use their resources more efficiently."