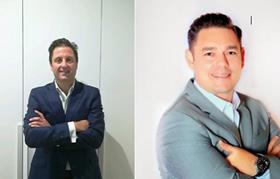 Planasa has announced two new appointments to strengthen its management team in Europe and the Americas.
The Navarra-based breeder has appointed Francisco Jiménez, formerly CFO, becomes managing director EMEA, while Iván Sálazar will take over as America managing director from 7 January.
Jiménez joined the company as CFO last year to restructure its finances and will now lead the reorganisation of other areas of the business.
He started his career as management consultant, and has since occupied different roles of business controlling and strategic planning until reach a CFO position, which has been performing during the last 10 years.
He has worked for both listed and private equity backed companies, with global reach.
'I'm delighted with this new challenge after joining Planasa one year ago, and extremely motivated to contribute to Planasa's growth with a great team," Jiménez said.
Planasa's president Alexandre Pierron-Darbonne commented: "Despite only being with Planasa for a year, Paco has already shown he is a great leader: under his leadership we have transformed the financial role of Planasa in record time, positioning it on a level with the best international companies.
"Paco is an industrial engineer and he has the ambition of taking on business responsibilities. I am utterly convinced that with his drive, dedication and tenacity, he will be a great managing director for Planasa in Europe in the coming years."
Salazar currently holds the position of operations director of Red Sun Farms Mexico, a leading company in the production of vegetables in high-tech greenhouses.
He has worked for the company for four years, and has 12 years of experience as an executive in international companies of vegetable and berry production for the markets of Mexico, the US, Canada and Japan.
Before being in agriculture, Salazar began his professional life at Coca Cola FEMSA in the production part of manufacture and logistics, where he specialised in the implementation of quality systems.
Salazar commented: 'It is a great challenge that is presented to me at a very opportune moment in my career, I am extremely motivated to start this great new responsibility and be able to join the great team of Planasa.
Alexandre Pierron-Darbonne noted that Iván had played a key role in the strong development and growth of his current company, where he was responsible for one of the main high-tech greenhouse operations in Mexico, and one of the main vegetable plant nurseries in Baja California and Central Mexico.
"Furthermore, Iván is an industrial engineer, giving him the solid academic foundations for working in this position," Pierron-Darbonne added.
"I am highly confident that given his experience, knowledge and leadership skills, Iván will be the key to the consolidation of operations and the future development of Planasa in America."