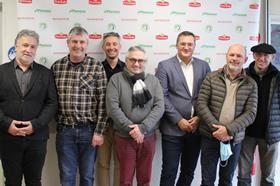 Planasa has agreed to make Priméale its exclusive sales partner for fresh asparagus in France.
Under the terms of the deal, Priméale, a subsidiary of the Agrial group, will exclusively market Planasa's asparagus varieties until 2023.
Planasa France produces around 700 tonnes of asparagus a year, mainly the white Darzilla variety, which is marketed under the Domaine Saint Jacques and Priméale brands through major French retailers.
Planasa said working with France's biggest vegetable cooperative would concentrate supply, create more value in the production chain and help enhance Planasa's role as breeders.
Priméale produces around 750,000 tonnes of vegetables a year on farms located in Europe and Africa.
With approximately 1,500 ha, Planasa is one of the biggest nurseries in the world and the world's leading producer of fresh endive.