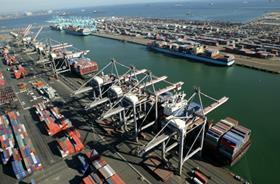 The International Longshore and Warehouse Union (ILWU) president has called out the Pacific Maritime Association (PMA) 'all-in' offer to compensate ILWU members, following nine months of dispute.
The PMA issued an ultimatum of "continued slowdowns or gold-standard wages and benefits" on 4 February, offering a 3 per cent year-on-year wage increase for ILWU full-time workers, following three months of port slow-downs across the US West Coast.
"Our members have shown tremendous restraint in the face of ILWU slowdowns that have cut productivity by as much as 30, 40, even 50 per cent," said PMA president Jim McKenna in a company statement. "This offer puts us all-in as we seek to wrap up these contract talks and return our ports to normal operations."
The ILWU, one of the country's most powerful labour unions, has hit back at the offer, claiming that PMA employers are putting pressure on US port workers.
"What the ILWU heard yesterday is a man who makes about US$1m a year telling the working class that we have more than our share," said ILWU president Robert McEllrath on 5 February. "Intensifying the rhetoric at this stage of bargaining, when we are just a few issues from reaching an agreement, is totally unnecessary and counterproductive."
One thing both parties have agreed on, however, is that a resolution is close.
"The deteriorating situation on the docks is in nobody's long-term interest," McKenna said. "I hope the ILWU leadership will give very serious consideration to this contract offer, which I believe respects their members and gives us a clear path to conclude these talks. We owe it to workers and businesses across the nation to resolve our differences and get our ports moving again."
"What the employers need to do is stay at the negotiating table and work through a few remaining issues with the workers who have made them successful for the past 80 years. We are very close to reaching an agreement," said McEllrath.
McKenna has told reporters that port operations could halt within a week unless an agreement is reached between the ILWU and the industry organisation that represent major shipping line and port terminal operatives.
The fresh produce industry has been reeling from the flow-on effects of the port strike, which have delayed exports ahead of the Chinese New Year.