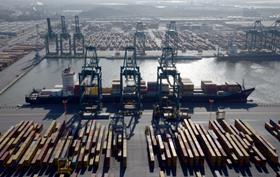 The Port of Antwerp has said that despite the special measures announced by the Belgian government to stop the spread of Covid-19, it will remain operational given the prime-minister also called for important sectors of industry to keep going.
'We are facing up to our responsibility and are making it a priority to keep the port fully operational,' the Port Authority noted in a statement.
As the main engine of the Belgian economy, the Port of Antwerp is essential to keeping Flanders and Belgium supplied, and is doing 'everything necessary' to guarantee good operations.
The Port Authority said it was taking several measures, and was constantly following the advice of the WHO, EU and Federal Government Departments of Health (Saniport) and Mobility.
All events that are not strictly necessary have been cancelled, and visitors are admitted to critical work locations in the port only where absolutely essential.
'The health and welfare of all employees in Port of Antwerp is a top priority, and we are doing everything necessary to guarantee a safe work environment,' the Port Authority explained. 'Furthermore, many port authorities are organising themselves so that as many employees as possible can work from home and are limiting physical meetings to those that are strictly necessary.'
Economic impact
The Port Authority said that the large degree of uncertainty about the spread of the coronavirus made it difficult to estimate the economic impact on the Port of Antwerp.
Some 15 fewer ships from Asia are expected to call at the port in the coming weeks due to the outbreak. This is on top of the number of departures usually omitted at this time of year due to the Chinese New Year.
This corresponds to 115,000 TEU (standard containers) less of container traffic to and from China – Port of Antwerp's second-largest trading partner after the US.
As yet it is still too early to estimate the impact on the trade volume from the rest of the world, the port noted.