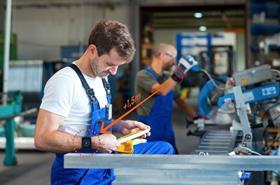 The Port of Antwerp is set to be the first to use the innovative Romware Covid Radius, a digital bracelet that ensures social distancing and permits contact tracing, developed by Belgian technology company Rombit.
The device helps employees to observe the strict precautions laid down by the WHO while respecting the privacy of the wearer and follows a call from the Flemish Government for digital solutions to help society through the current coronavirus crisis.
The bracelet works by sending a warning signal to employees whenever they come too close to one another. However, the device never passes on the location or any other sensitive information to the employer in order to guarantee privacy.
At the same time the bracelet permits contact tracing. If a member of staff becomes infected, a health advisor can check which work colleagues the person has come in contact with in order to prevent further infection.
Jacques Vandermeiren, CEO of the Port of Antwerp, commented: 'Innovation and digital transformation are crucial in times of crisis such as these. It is essential to keep the port operational, and to ensure that our employees can work safely. We therefore see great potential in this solution and will shortly start trials with a team of operatives.'
Port alderman Annick De Ridder added: "It is fundamental that our economy can get back to full speed as soon as possible and that we focus on ways to ensure that this restart will proceed safely. As the port of Antwerp, we are happy to contribute by taking up our social role and functioning as a testing ground for technological innovation."