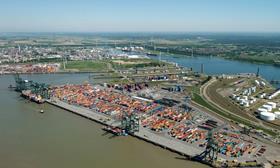 The Port of Antwerp is in discussions with PSA Antwerp, operator of the Europa Terminal, to demolish the quay wall and replace it with a deeper one to enable the facility to handle the largest container vessels.
The work, which is due to begin at the end of 2021, will be carried out in three phases in order to limit the operational impact on the port. This allows a large part of the terminal to remain in operations at all times, while another part of the capacity is diverted to PSA's Noordzee Terminal.
As the engine of the Belgian economy, the port of Antwerp is permanently working on both expansion, such as with the ECA project, and the optimisation of the existing capacity. The renovation of Europa Terminal is an important step in the further development of a sustainable port.
Jacques Vandermeiren, CEO Port of Antwerp, said: "Containers are the most important segment at our port and a growth segment in the world, our yearly figures in 2020 prove this once again.
"And the trend towards more containers for transporting goods will only continue. This deepening is in line with our ambition to continue to grow as a port in a sustainable way and will contribute towards maintaining our position as a world port."