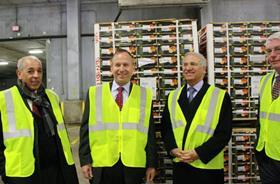 In the US, a number of senior Delaware officials including Governor Jack Markell and Senator Chris Coons have welcomed Moroccan Ambassador Mohamed Rachad Bouhlal the Port of Wilmington, coinciding with the arrival of a shipment of Moroccan clementines.
Wilmington is the exclusive port of entry for clementinesfrom Fresh Fruit Maroc, the leading consortium representing Moroccan produce exporters, with the clementines bringing in US$5.6m in annual revenue.
'It's a great honour to be here today to welcome the arrival of these clementines and to celebrate the increasingly strong economic partnership – a partnership that this shipment symbolises – between Morocco and the US,' said Bouhlal.
The previous clementine season, which ran from late October 2011 through to February 2012, saw 22,964 tonnes of clementines enter the Port of Wilmington, a 114 per cent increase over the previous year.
'Moroccan cargo has employed people here in Delaware for more than a decade,' explained Markell. 'We're pleased to have the opportunity to thank Ambassador Bouhlal and the team from Fresh Fruit Maroc. Our trade with Morocco is thriving and I look forward to continuing our partnership, creating jobs and keeping Americans supplied with healthy produce all winter.'
In the 2011/12 season, Fresh Fruit Maroc inaugurated a breakbulk clementine programme, instead of containers, for the US market.
Using the Port of Wilmington's cold treatment facilities and expertise to comply with USDA import protocol, this change 'significantly improved the reliability of delivery times to U.S.-basedmarketing and distribution companies', the delegation noted.
Since the trade partnership commenced in 2000, Fresh Fruit Maroc andtheir growers have shipped more than 242,000 pallets of clementines, with a commercial value exceeding US$345m.