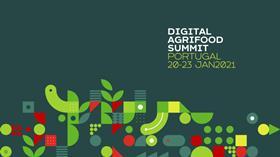 Hundreds of buyers from 61 countries took part in the first ever edition of the Digital Agrifood Summit Portugal, which took place last week.
In all, 74 Portuguese food and drink companies displayed their wares at the virtual fair, organised by the Portuguese Agrofood Cluster (made up of PortugalFoods, Inovcluster, Agrocluster do Ribatejo and Portugal Fresh) and ViniPortugal.
Fruit and vegetables, wines, meat, fish, cheese, charcuterie, olive oils and olives, confectionery, beers and preserves were among the products showcased at the event.
"In a year in which the majority of international fairs have been cancelled or reduced in size, we wanted to offer our exporting companies an affordable and simple opportunity to connect with buyers from all over the world," said Amândio Santos, president of PortugalFoods and head of the Portuguese Agrofood Cluster.
"It has been a pioneering, brave and risky bet, which has united the entire Portuguese agri-food sector like never before. Now we know what we are capable of and, although we can improve in the future, our intention is to maintain the momentum generated with this event so that it becomes a recurring event on the international scene."
The Digital Agrifood Summit Portugal forms part of the Portuguese Agrofood Cluster's wider strategy to set the sector on the path towards a true digital transformation, Santos added.
The event included business meetings, virtual talks and conferences covering a range of issues such as export regulations, international certifications, community legislation, EU trade policy and national foreign policy.
The event is the latest initiative to boost Portugal's export profile. Currently, the Portuguese government is negotiating around 200 trade agreements for food products covering 59 countries on five continents.
The agri-food sector employs around 300,000 people and represents more than 11 per cent of Portugal's national exports, worth €6.5bn per year.