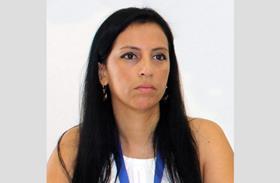 On Monday, Inovcluster, the Portuguese agri-food promotion and development association, is launching Digital AgriExport 4.0, a brand new virtual networking event to showcase the country's food export offer. Over a two-week period, buyers from all over the world will be able to meet and do business with Portuguese companies through a dedicated, easy to navigate online platform. Inovcluster's president, Claudia Domingues Soares, talks exclusively to Fruitnet about the event and how exporters are learning to navigate in a Covid landscape.
Claudia, what can buyers who visit this month's Digital Agriexport 4.0 expect to see?
Claudia Domingues Soares: The buyers that visit our event will want to take Portugal with them. That is our slogan – and that is the result we want to achieve. We want the buyers to get to know new, innovative and high quality products and to start new business partnerships.
Therefore, buyers who visit our free international networking event can expect a fantastic variety of products made with love, quality and respecting all the necessary parameters that they seek.
Besides the products, they will find professionals dedicated to making good and long-term partnerships, with credibility and transparency. This is the culture of the Portuguese.
Have many fruit and vegetable companies signed up to the event?
CDS: We have 10 exhibitors that belong to the fruit and vegetables sector out of a total of 52 exhibitors. They include companies specialising in blackberries, pears, apples, nectarines, olives, pumpkins, raspberries, kiwifruit, strawberries, samphire and plums.
Visitors will find these products in different formats, including fresh, dehydrated, jams or in innovative formats such as freeze-dried.
All of the fruit and vegetable companies taking part are already exporters and a large part of their production is destined to the international market. We are sure that international buyers will find the ideal partners for their business, always guaranteeing quality, which is the main characteristic of our producers.
Given that very few physical events are able to be held in the current crisis, what advantages do you think digital events can offer to exporters and buyers?
CDS: We have all become very used to digital events, given the impossibility of being able to meet physically. They are no longer a novelty, but rather the new normality – in Portugal and in other countries of the world.
The main advantages of digital events are undoubtedly the possibility of being able to guarantee that over the space of two weeks, importers from all around the world can meet with exhibitors from the whole of Portugal, from the north to the south. Since there are no travels, availability increases.
Another great advantage is that virtual events are much less expensive than face-to-face international trade fairs, allowing many more companies to take part, which leads to greater business opportunities.
But we cannot fail to mention a major disadvantage, since this is an event entirely dedicated to agri-food products, buyers cannot taste the products as they did previously at physical events. To try to get around this new problem, we put a new idea into practice. After the B2B meetings and if both parties are interested, Inovcluster will send product samples to importers from several countries.
We hope that soon we will be able to have face-to-face events again, but the digital format is here to stay and can, in a way, complement all face-to-face actions that may take place in the future.
What other projects does Inovcluster have lined up for the rest of 2021 and beyond to promote Portugal's agri-food export offer?
CDS: Inovcluster is currently involved in several internationalisation projects. For example, we are developing four international cookbooks with the well-known Portuguese chef Chakall, in partnership with opinion-makers from the focus markets. At the beginning of next month we will launch cookbooks for the Swedish, Finnish, Danish and Dubai markets. In these books, the public will be able to understand how they can add Portuguese products in their traditional recipes.
We also plan to launch two apps to support agri-food companies: a mobile matchmaking app and a web platform providing logistical support to make our exports more competitive.
We have also lined up a number of virtual trade missions with companies from the Portuguese sector in order to make up for the lack of face-to-face events and try to support companies in increasing their exports.
We organise regular meetings with importers from different countries around the world until the end of the first half of the year, to find out what products they are interested in and consequently present Portugal's agri-food products, thus creating more business opportunities for our companies.
Basically, Inovcluster is the ideal partner for international buyers to find the best products and partners in Portugal, providing this service free of charge.