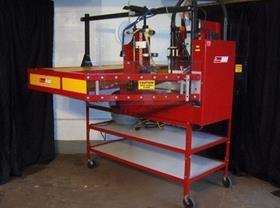 Posie Packer has appointed a European agent in the Netherlands to support European growers and packers using its produce bag-labelling machine.
Producers supplying polybagged fresh produce lines such as apples and leafy salads can turn to Heto Agrotechnics in Oude Wetering in the Netherlands, for support.
The firm has been selected as a dealer for Posie Packer machinery and thus builds on the wide range of machinery, systems and related products it delivers to the horticultural industry.
John Vandergrift, owner of Canadian firm Posie Packer, said: "The Posie Packer produce bag-labelling machine, as compared to manual labelling, offers a cost-effective methodto apply labels to wicketed and non-wicketed polybags used for produce.
The key characteristics of the machine that makes this possible are that it uses two proprietary methods to neutralise the impact of static electricity on accuracy, and it has a strictly electromechanical design that makes it user serviceable. It can apply two labels per cycleand has flexibility – the machine can handle all label sizes and required label locations."