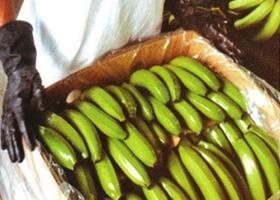 Pratts Bananas, one of the UK's leading fruit importers and ripeners, has announced the signing of a voluntary recognition agreement with the GMB.
The voluntary recognition agreement will cover Pratts' production workers, for the areas of pay, holidays, health and safety, equal opportunities and hours of work.
The announcement comes after the results of an ACAS membership check of GMB union members earlier this year paved the way for a voluntary agreement to be forged.
Robert Wells, managing director of Pratts, hailed the new deal. 'Today's signing is a genuine milestone for the company. We can now move forward with the support of one of the UK's most respected unions and both work together to develop Pratts and ensure its future,' he said.
'The welfare of our staff is the number one priority for the company and we look forward to working with the GMB as the company goes from strength to strength,' Mr Wells added.
Warren Kenny, GMB Organiser, said: 'GMB members working at Pratts are delighted with the signing of the new agreement which brings bargaining rights and the trade union of their choice. GMB members look forward to working with the company to take the business forward for the benefit of everyone.'
Pratts faced criticism last year after a leading supplier of Fairtrade fruit accused the company of exploiting migrant workers from eastern Europe.