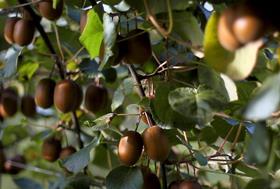 French kiwifruit marketer Primland has announced the arrival of Oscar Gold kiwifruit from South Africa thanks to a 'solid partnership' with producers in the country.
This marks the second successive year that Primland has been able to offer its customers counter-seasonal supplies of golden kiwifruit, with off-season green kiwifruit already being provided by the company's subsidiary in Chile for more than 22 years.
From the Northern Hemisphere, Primland's volumes totalled nearly 10,000 tonnes of green kiwifruit this past season, as well as more than 300 tonnes of Oscar Gold kiwifruit.
This season, in addition to nearly 3,500 tonnes of Chilean Hayward kiwifruit, the company will offer more than 30,000 trays of Oscar Gold kiwifruit from the month of May.
'The South African kiwifruit supply has been established with growers from the Mpumalanga region whose production area is very well suited to the cultivation of yellow kiwifruit and has the advantage of having a microclimate that allows the fruit to ripen almost a month earlier compared to the national average,' Primland stated.
Thanks to the assistance of Primland's technical and commercial teams, producers are able to guarantee a product that meets consumers' requirements, the marketer revealed, with strict compliance, with Oscar Gold's specifications ensuring excellent quality.
'These kiwifruit growers have the satisfaction not only of offering high-quality fruit, but also of finding sustainable outlets,' the company said. 'They benefit from Primland's broad experience and a customer base acquired over 40 years in 35 countries.'