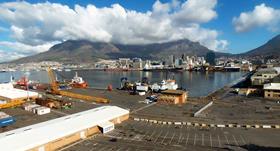 South African exporters have said problems in the port of Cape Town have got worse since last year, in part due to the Covid-19 pandemic, but also down to other factors.
Tru-Cape Marketing, one of the leading exporters, said issues and delays raised in December last year with the port authorities have only got worse, exacerbated by Covid-19.
As far back as December 2019, inefficiency at Cape Town's port was highlighted by the Department of Economic Development and Tourism in the Western Cape, who convened a meeting with key stakeholders representing the entire port logistics chain.
This included exporters and importers, trucking companies, the respective divisions of Transnet, Navis (container terminal operational system}, the South African Revenue Service and shipping lines, as well as representatives from the City of Cape Town.
In December last year it was revealed that where the global standard is three to five cranes used per ship to load containers, the average number of cranes per ship at the Port of Cape Town is 2.5 for the year-to-date.
The impact is an additional delay of at least three days in port per ship. With 510 vessels calling at the Cape Town container terminal in the past year, this implies a total loss of 1,530 ship days per year due to congestion.
The problems at Cape Town resulted in shipping lines changing their schedules to avoid the port on their normal north-south run. Fruit had to be transferred to other ports to meet customer requirements.
Tru-Cape managing director, Roelf Pienaar, said that port delays were only part of the problem: "The limited availability of reefer containers, something Tru-Cape raised in the media in what seems like a decade ago, changing shipping schedules where some lines are skipping Cape Town all together and the effect of climate, which is an ever present factor, all impact our ability to export."
The company's logistics team, along with Link, a logistics company co-owned by Tru-Cape, have pulled out all the stops to ensure that fruit is delivered to customers on time.
Pienaar noted that South African exporters to the European Union were now running into different problems.
He explained that from August each year that, as Northern Hemisphere fruit becomes available, tariffs are added to apple and pear imports from South Africa.
"Getting our product to land before the tariff deadline has a significant impact on our bottom line and the income that returns to our growers and their ability to replant trees,' Pienaar outlined.
With Northern Hemisphere stocks having been cleared early, delays have resulted in marketing opportunities being missed while markets are relatively empty.
According to Pienaar, Link has been very proactive in securing other methods through which the company can ship: on feeder vessels, conventional vessels and trucking to Port Elizabeth to connect with vessels there.