Association said the riots are causing "incalculable" damage to Peru's reputation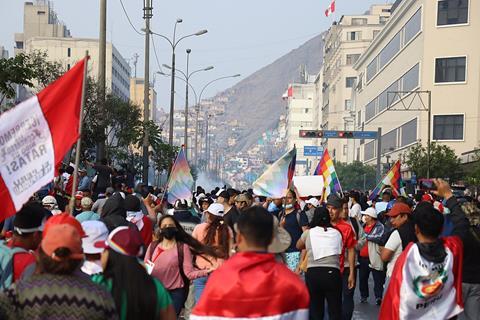 Peruvian table grape association Provid has called on the government to urgently restore and maintain order as the escalating political crisis threatens to derail the export campaign.
"The chaos caused by criminals and subversives that infiltrated the demonstrations and are attacking and paralysing the country is hurting the agricultural sector and depleting markets," Provid said.
"The economic and productive damage is in the millions. The losses in small agriculture and the damage to the reputation and image of Peru are incalculable. The loss of investment and employment already affects Peruvians."
Provid has warned that 100,000 jobs could be at risk due to the crisis. While trade statistics for week 1 shows a 2 per cent rise in shipment volumes, it said the ongoing political unrest in Peru could have a major negative effect on the rest of the export season.
Running battles between police and rioters calling for the resignation of president Dina Boluarte have left around 50 people dead and hundreds injured. Roadblocks are causing delays to fruit harvesting an packing as workers cannot reach farms, while produce being transported from the main growing regions to the ports also faces major disruption.
This crisis was triggered by the ousting of leftist and Indigenous president Pedro Castillo in December and the growing anger at the inequality between the urban elite and poor rural Indigenous people, who claim Castillo as one of their own.
Provid continued: "We demand the government of president Dina Boluarte declare an emergency in the regions where there are roadblocks and violent acts, such as Ica and Arequipa, among others.
"We also demand the government immediately unblocks the country's roads and that the National Police and Armed Forces monitor them so that they are not blocked again."