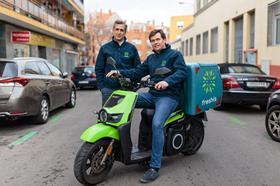 Freshis, a Spanish start-up set up just a few weeks before the pandemic lockdown in 2020, has become the first platform offering to deliver fresh fruit and vegetables direct to consumer homes from the farmer in less than one hour.
Founded in Madrid by three Spanish entrepreneurs, Lluis Puig, Pablo Engelmann and Jaume Puig, Freshis already has more than 3,000 registered customers who use the platform regularly and claims to have fulfilled more than 10,000 orders in 2021, with an average receipt of €42 per order.
The company plans to expand its business throughout the national and international territory in 2022.
"Our start-up coincided with the closure of the country due to the first state of alarm. At that time, the whole city was trying to shop without leaving home and we began to distribute fruits and vegetables on our personal motorcycles, trying to satisfy all the orders that came to us", says co-founder and director of operations Pablo Engelmann.
The Freshis strategy centres on eliminating intermediaries, thereby creating more transparency in the value chain and avoiding unnecessary costs. It aims to deliver the product less than 18 hours from when it is harvested and within 1 hour of the order being placed on the platform, guaranteeing consumers optimum ripeness and shelf-life.
As founder and CEO Lluis Puig explains, "our goal is to create full transparency so that the consumer can know who the producer is, where each product comes from, the type of crop that has been used and the price that the producer receives.
"At the same time, we want to improve the lives of farmers by paying them a fair price for their work, which is something they have sought for a long time."
When they decided to create the company, the founders shared a common vision: to do things in a more sustainable, conscious and careful way. After years of experience in the sector, they wanted to redefine the rules of the market by offering a good product at a fair price to the producer, at the click of a mouse and with ultra-fast delivery.
With more than a year of experience behind them, they claim Freshis has become a sustainable alternative to eating fresh fruit and vegetables direct from the garden, satisfying new consumption trends.
Research shows two out of three Spaniards are willing to make consumption decisions based on sustainability. Food is the leading organic or sustainable product purchased in the last year and organic fruit and vegetables account for 59 per cent of sales within this category.
In February, the company will achieve its second major milestone when it launches in Barcelona.
"Having established the company in Madrid, our plan was always to reach Barcelona, our hometown," says Puig. "We already have the facilities, the equipment and our fleet ready to start providing service in a few weeks."
After that, the goal is to expand to Berlin, Munich and Hamburg by the end of the year, achieving sales of €6m in 2022, rising to €15m in 2023.
"Currently, we're the only q-commerce start-up in Spain offering products direct from field to table in less than an hour," says Puig.
"We are able to send a fruit or vegetable in less than 18 hours from harvesting, reducing the current supply chain, which is at least four days, and thus ensuring a product of the highest quality."
Orders are shipped in ecological and/or returnable packaging and the distribution is carried out with the company's own fleet of 100 per cent electric vehicles, thereby reducing the carbon footprint of each product.
As Pablo Engelmann explains, "we want to be 'the Netflix of fruit and vegetables' and that is why we offer a service 100 per cent adapted to the needs of the consumer: we use specially designed algorithms to collect the user's preferences and tastes so we can help facilitate future purchases".
Freshis has a network of more than 30 local and national producers that supply the platform with products that can be grown in the area close to each city where it operates. In order to be selected as suppliers, producers must meet certain requirements such as being independent or specialised in a specific product, since Freshis only has one producer for each type of fruit or vegetable it sells.
In addition, they must be farmers committed to social, economic and environmental sustainability and possess the best cultivation and maturation techniques to ensure the flavour and health of the food.
"We have very close relationship with the farmers, establishing, together with them, a fixed price for the purchase of their food for the whole year, which we keep the same regardless of seasonality, so that it never harms the consumer or them," Puig explains.
"In this way we ensure that farmers receive a fair price for their work and that, in addition, they have room to reinvest in innovation and the improvement of their products."
The founders estimate that by selling their produce through Freshis, growers can increase their profits by 30 per cent compared to using the traditional sales model, since the platform pays between 10 and 20 cents more per kilogram than, say, hypermarkets or supermarkets. "Ultimately, our philosophy is based on having personal and economic relationships that are ethical and fair with both producers and consumers in order to have a net positive impact in the world," Puig says.