The new promotion will build on last year's European marketing campaign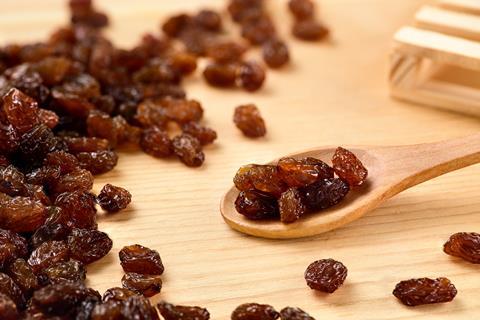 SA Sultanas is preparing for a major promotional push in Europe focusing on quality, taste and sustainability as South Africa looks to boost its share in key sales markets.
Importers, suppliers, retailers and the media are being targeted in a trade and B2B campaign that aims to position SA Sultanas as a premium-quality product that supports growers, creates jobs and is produced to near-zero residue levels.
The promotional push by Raisins South Africa will focus on trade PR and LinkedIn content creation, as well as print and digital advertising in publications across the retail, snacking, health, confectionery and convenience sectors.
Sweeter than Thompson raisins, with a caramelised, honey-like flavour, amber-coloured SA Sultanas have a softer and plumper texture, making them less chewy and easier to eat.
This is the second year that the SA Sultana – formerly known as the WP raisin – has been promoted, with the products featuring redeveloped and standardised category specifications, a 12-month shelf-life and value for money.
Key campaign messages include highlighting the fact that SA Sultanas are 100 per cent naturally sundried grapes, have complete traceability with SA GAP accreditation, and are produced according to sustainable farming processes in the ideal conditions of the Orange and Olifants River regions.
In addition to the trade PR activity, Ferdie Botha, chief executive of Raisins South Africa, will also be visiting suppliers in the UK in May, while in November a trip is planned to bring UK trade buyers, as well as media from the UK, Germany and France, to the Northern Cape.
At a production level, South African exporters are confident for a strong season ahead, despite poor growing conditions in recent weeks. Heavy rainfall during the production season has damaged around 18 per cent of the crop, with a lower than usual tonnage expected.