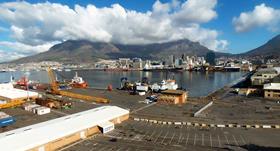 Recent rainfall across some of the Western Cape's fruit growing regions has been welcomed by producers in regions still suffering from drought conditions, although in some stonefruit and table grape areas the wet weather has been less well received.
It is reported that parts of the Hex River Valley had more than 100mm of rain over the weekend and, in this late growing region which is in the early stages of its harvest, this kind of precipitation is likely to cause disruption.
Further into the Karoo, at Ladysmith, stonefruit growers had their first decent rain in more than two years. While it will not do much to solve the drought problems, growers feel it is at least a start towards some form of recovery.
Veteran Hex grower Leon de Kock says the rain may affect the varieties now being harvested, but probably not the later crop, which is mostly Crimson Seedless, South Africa's leading variety.
"We are still blessed with our crops and we are happy for other regions in the country who had their first rain for years,' he said. 'Our water resources will also benefit and are most important after years without enough rain."
Stonefruit growers in the Robertson area had to pause their harvesting and packing as a result of the wet weather, but even here growers say the rain represents a dark cloud with a large silver lining.
At the same time, high winds caused disruption at the port of Cape Town, where weekend shipments have been affected. Cruise ships were also trapped in the port as Capetonians struggled in the city to stay upright.
High winds always complicate things for fruit exporters, because on some occasions scheduled vessels pass the Cape to avoid delays. Fruit is then left until the next vessel arrives.
Elsewhere, table grape growers in the Orange River are nearing the end of their harvest. The last weeks of packing will reveal if the region will reach its target of close to 20m cartons.