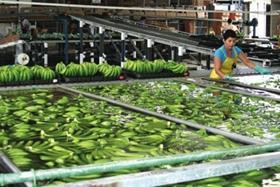 Banana production in Costa Rica has been seriously hit by heavy rainfall on the Caribbean coast, which also struck Nicaragua and Panama and has seen flooding in the Central-American region.
According to a report by Costa Rica Pages, over 10,000ha of banana production has been hit by the rainfall at an estimated loss of US$30.8m (€24.2m) – higher than the initial estimate of US$21m (€16.5m).
As a result of the loss, approximately 4.3m 18kg boxes will be not circulate this year, the report said – a blow for groups such as Del Monte and Chiquita who source bananas from the country.
The National Banana Cooperation (Corbana) is set to release emergency loans to support farm owners and workers, with the French government offering to support the country with US$100,000 (€78,652).