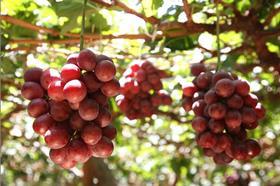 Table grape exports from Peru have hit a new record aftersendings totalled US$328m in value during the 2011/12 campaign.
The result marksa significant jump from the US$36m inshipments recorded in 2005/06, according to figures released by the PeruvianMinistry of Agriculture (Minag).
The upturn in exports comes on the back of rising productionin areas like Ica, as well as the result of the incorporation of new growingareas such as Piura, Lambayeque and La Libertad.
During the 2011/12 season, Peru's table grape exports roseby 53 per cent in value terms and 47 per cent in volume, compared with theprevious campaign, Minag said.
The main export markets were the US, the Netherlands, HongKong and China.