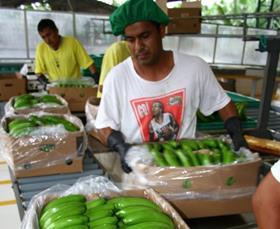 Known as the pearl of the Pacific, the bustling coastal city of Guayaquil is the business capital of Ecuador and the beating heart of the country's banana industry. Around three-quarters of exports are shipped through its ports. Sadly, in recent weeks it has also become the epicentre of the country's coronavirus outbreak and one of the hardest hit regions in Latin America.
While the banana sector and ports have remained operational throughout the crisis, exporters are facing a slump in demand as the virus tightens its grip on global markets.
"The banana sector is one of the few sectors that has remained operational, and wasted no time in implementing safety measures to protect workers on farms and in packhouses," said Richard Salazar of exporter association Acorbanec.
"In the first two weeks following the declaration of a state of emergency, practically everything that was programmed to be exported was shipped, in spite of significant problems with the availability of containers and other production materials, heightened controls and absenteeism of transport workers and other members of the supply chain due to fears of contagion.
"But markets like Russia, Europe and the Middle East have reduced or stopped banana purchases, mainly due to logistical and distribution difficulties resulting from measures taken by countries to slow the spread of the virus."
Acorbanec estimates that in the last three weeks of March there has been a fall of 20-25 per cent in purchases depending on the market, including for contracted fruit.
On the spot market meanwhile, prices as of mid-April were hovering between US$2 and US$2.5 per box, compared to US$12-15 at the start of the year.
"Some importers have fallen behind on payments and others have not been able to pay at all, affecting the liquidity of export companies. And certain clients are unfortunately taking advantage of the crisis to try and lower prices further, which we are resisting," Salazar explained.
To avoid further price falls, Acorbanec is calling for supplies to be regulated immediately until the worst of the crisis is over.
In spite of the disheartening short-term outlook, Salazar remains hopeful that the markets will stabilise once the balance between supply and demand has been restored.
"People will not stop eating bananas and we hope that prices will improve once Ecuador reduces its export volume,' he said.
"Bananas are hugely important for Ecuador's economy, generating 250,000 direct and indirect jobs and around US$3.1bn in foreign currency. If exports are affected, the economy will pay a high price."