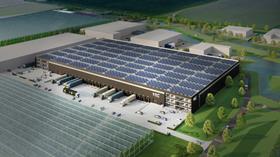 Dutch exotic fruit and vegetable supplier TFC Holland has confirmed plans to move to a bigger packhouse in the second quarter of 2022, and to import larger volumes of avocados from Mozambique.
As demand for tropical produce continues to increase among European food retailers, the company said it had started to outgrow its existing site in Maasdijk.
'By increasing our performance, we want to move forward and further strengthen TFC's attractiveness as a reliable supplier of exotics," said chief executive Falk Schlusnus.
A brand new facility covering 26,000m² in nearby Waddinxveen is set to provide a "significant expansion" in the company's capacity to store, ripen, and pack produce.
The centre will make greater use of new artificial intelligence-based ripening system for avocados and mangoes, technology in which TFC invested back in early 2021.

'The implementation of innovative technologies along shortest possible value chain is just as relevant to our business as direct access to fresh produce and long-standing, reliable partnerships in the countries of origin,' Schlusnus explained.
'Therefore, it is a logical step for TFC to continuously invest in the vertical integration of our main products.'

Avocado advance
At the same time, the company continues to secure direct access to avocado supply at the point of origin.
To that end, it has expanded its year-round supply through a long-term cooperation with growers in southern Africa.
Through its collaboration with growers of Hass and Greenskin avocados in Mozambique, it said it expected to expand "significantly" what has traditionally been a "rather scarce" supply window from southern Africa at the beginning of the year.
'Through extensive investments in our processes and our value chain, we want to build on TFC's impressive success story and achieve sustainable added value for our growers and customers,' commented Benedikt Mangold, chief executive of BayWa Global Produce, part of the importer's parent company BayWa.