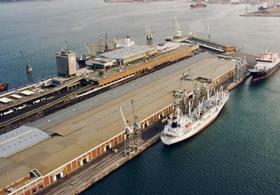 The Africa CEO Forum has partnered with strategy consulting and financial advisory firm Okan to put together an African port sector report, breaking down the multiple changes and trends holding back the sector's development.
The report provides six pragmatic and ambitious recommendations – such as better structure public investment, eradicate operational inefficiencies, mobilise private investment through public-private partnerships, improve business climate and fast-track integrated industrial port projects – that seek to accelerate the modernisation of continent's port sector.
At a time when 80 per cent of trade in Africa moves through ports, the sector's modernisation is described as 'pivotal' in order for it to be able to support the continent's economic transformation, industrialisation and regional integration.
'Despite the immense amount of progress made over the past 15 years, including the emergence of world-class African ports able to accommodate next-generation vessels and a significant increase in private investment (US$15bn over the period), the development of Africa's ports continues to be uneven,' the Africa CEO Forum stated. 'What's more, there is still considerable room for improvement: out of Africa's top 20 ports, only Egypt, Morocco and South Africa had a cargo handling capacity of more than 4m TEUs in 2018.
'If Africa wants to draw attention to its vast resources, including its mining and agricultural products, and be able to export them, then it will need efficient ports.'
Better structure, public investment, eradicating operational inefficiencies, mobilising private investment through public-private partnerships, improving business climate and fast-tracking integrated industrial port projects are some of the recommendations made in the report.
"The release of this exclusive report resonates with the Africa CEO Forum's mission to highlight the challenges African businesses face, offer concrete solutions and make the voice of the private sector heard on the continent's major development challenges," said Amir Ben Yahmed, founder and president of the Africa CEO Forum.