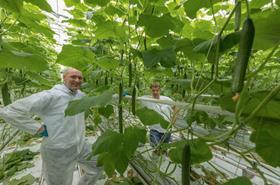 Vegetable seed specialist Rijk Zwaan has said that the worldwide increase in high-wire cucumber production has resulted an increased focus on developing more labour-friendly varieties.
The high-wire production method results in bigger yields and more uniform fruits, but at the same time involves a lot of labour.
Rijk Zwaan breeder Tolis Spyropoulos described high-wire production as one of the most significant trends in cucumbers.
"The total production area of high-wire cucumbers is increasing, especially in the Netherlands, Canada and Russia, and particularly in combination with supplemental lighting,' he explained. 'In recent years, Rijk Zwaan has invested heavily in new research facilities. We have extended our breeding team, for example, and set up a selection greenhouse with various different lighting levels."
Some members of the breeding team are dedicated to varieties that are suitable for the high-wire production system.
"Growers are very keen to see a reduction in the amount of labour involved in high-wire production, which is why we're looking for varieties with compact growth, an open plant habit, horizontal leaves and a small number of fruits,' Spyropoulos continued. 'Because the growing season lasts longer, we are selecting robust varieties with strong roots and an extensive package of resistances."
In recent years, that approach has resulted in the launch of several successful varieties, such as in Russia where the midi cucumber Mewa RZ has become the standard variety for high-wire production with supplemental lighting.
'It's a strong variety with good fruits,' said Marcel van Koppen, crop coordinator cucumber. "Our long cucumber Lohengrin RZ has also secured a good position in high-wire production with supplemental lighting in both Russia and Canada. The variety produces heavy fruits and is strong against cucumber green mottle mosaic virus (CGMMV).
'The same holds true for Verdon RZ, which is the main summer variety in Canada,' he added. 'The variety is also resistant against powdery mildew and it produces the longer-length cucumbers that are popular in that market."
Uniformico RZ and Lausanna RZ are two labour-friendly varieties that have already made a name for themselves in the Netherlands for high-wire production in the summer and autumn.
These have recently been joined by three new varieties for autumn production, and they are already being grown on 39 hectares.
"The 24-283 RZ is suitable for high-wire production with supplemental lighting at between 80 and 100 µmol, which enables growers to bring the season forward,' Van Koppen outlined. 'The 24-282 RZ cucumber variety is now being grown at a light intensity of more than 180 µmol.
'Meanwhile, our new variety 24-280 RZ performs best in high-wire production with natural light only. All three varieties have got off to a very good start this season, and we are following the developments closely."
Besides launching new varieties for high-wire production, Rijk Zwaan has more innovations in the pipeline, according to the breeder:
"A lot of research is being done into automation and the use of LEDs with cucumbers,' Spyropoulos noted. 'Rijk Zwaan is closely following these developments and working on new varieties which – together with a harvesting robot or an improved lighting spectrum – will take the cultivation of cucumbers to a higher level."
The Rijk Zwaan breeding team is also working on varieties with a combined package of resistances, such as against the root diseases Pythium and Fusarium.
"This is extremely important for high-wire production, particularly because of the longer growing season,' he added. 'We've still got plenty of work to do."