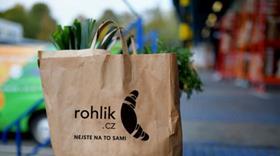 Rohlik Group, the Central European online grocery retailer, has introduced unlimited paid leave for employees in a bid to attract and retain the best talent to fuel its international expansion.
From now, the group's nearly 500 employees will be allowed to take paid leave whenever they wish, as opposed to the current maximum of 25 paid days off. The retailer said the policy would give staff more control over their lives and show that it had confidence in the people it hires.
Daniela Razimová, chief employee experience officer at Rohlik Group, commented: "managing rapid growth requires an experienced and motivated workforce, from top-level management all the way down to our crucial frontline drivers and pickers completing orders".
In moves to deliver more local autonomy and responsibilities in all countries, the company hopes to create an attractive mix of hybrid working environments, employee stock option plans and more flexible paid leave for its employees in all markets.
"Our employee experience is built on a high degree of autonomy, responsibility, mutual trust and quick decision making," said Eva Krčová, the company's director of international talent acquisition.
"This environment places more emphasis on the quality of work that employees deliver, rather than just the amount of hours they spend doing it.
"Unlimited holidays are another incentive and reward for our employees, which allows them to work even more efficiently and smarter, ultimately resulting in the best possible customer experience."
Rohlik joins a host of global companies such as Netflix, LinkedIn, HubSpot, Kickstarter and Dropbox, who all offer discretionary vacation time.
In 2019, MetLife's US Employee Benefit Trends Study showed that 72 per cent of 2,675 full-time employees interviewed expressed interest in receiving unlimited paid time off.
The 2019 Vacation Confidence Index by Allianz Global Assistance, which surveyed 1,005 workers, found that employees would even take a pay cut in exchange for unlimited vacation days.
Tomáš Čupr, Rohlik Group's founder and CEO said: "The value of creative work should not be measured by time, but by results.
"Talented and motivated people deliver better customer experiences, which despite our rapid growth from start-up to a fully-fledged European company, is still at the heart of what we are about.
"This big change comes as we look to further boost our international growth ambitions by scaling up our team and allowing it to launch our unique service in other countries such as Italy, Romania and France. It's just one of the steps that we are taking to become the ultimate market leader."