European consumers can expect to see more of the company's premium plum brand as new plantings increase, Shazad Rehman tells Fruitnet
Shazad, how has the plum campaign started? Has there been a good market for early varieties?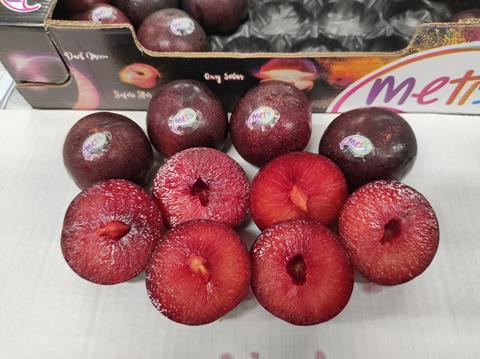 Shazad Rehman: We just started at the end of last week, which is on target with when we expected to start. Our strength as a company is that we are the first Northern Hemisphere supplier to bring sweet eating premium plums to the market. Consumers are uninspired with late season Southern Hemisphere sea-freighted plums so we come in just at the right time to capture the imagination with delicious eating plums for summer time.
Hail and frost have caused significant losses in several regions of Spain. Has your production been affected?
SR: We have heard that plums and other stonefruit in parts of Spain have been impacted by the frost and production is down in these area by up to 60 per cent. Thankfully Royal has not been affected and we expect quality and volume to be strong this year.
Metis is growing in presence on European supermarket shelves. What volume do you expect to market this year and what is the expectation regarding its growth in the coming years?
SR: We market our fruit under two premium brands: Pluot and Metis. We are planting more every year to keep up with demand. This year we expect to grow 20 per cent more than last year which is nearly 50 per cent more than what we produced four years ago. As the brands grow and consumers recognise and resonate with them more every year, our ambition is to keep up with the demand and our plan is therefore to plant 15 per cent more every year for the forthcoming years.
What other news do you have regarding the evolution of your plum offer? What innovations are you seeing in this segment and how are they following market trends?
SR: At Royal we dedicate our resource and investment in always improving upon the offer and range we have, bringing to the consumer different taste sensations that we have researched in our own trials. We're trying a lot of new selections every year and the feedback we have from consumers is that they are looking for a nice depth of flavour that is sweet and refreshing. There is a growing market in consumers wanting premium fruit and Royal is firmly placed to offer superior plums to them. For instance, we will have four new Metis varieties this year, bringing fruits to the market for the September and October window.
Are you investing in the development of plum varieties to extend the campaign at the beginning and at the end? From when to when is the campaign extended among all the ones you currently market?
SR: Royal's big strength is its ability to supply premium plums from late May all the way until the start of November. This is down to the hard work and dedication of our agronomy team, some of whom have been with us for over 30 years. This team ensures the perfect varietal selection to allow consumers to taste amazing premium plums for the best part of six months. No other grower has the ability to do this.