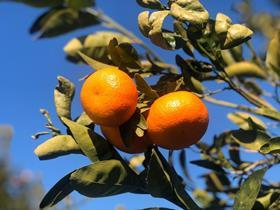 With current South African citrus exports to the US restricted to products from the Western and Northern Cape, growers in other regions are eagerly awaiting the conclusion of the long-delayed ruling for expanded access.
This rule has been awaiting final ratification for the best part of two years and, although it has been through all the technical processes, it now awaits ratification and signing by the US Secretary of Agriculture.
Once implemented, it will give citrus growers from other parts of the country access to the US market, which is generally seen as essential for the country as it is rapidly expands production.
"The US has been identified as one of the key markets for further expansion as the South African citrus industry plans to increase its output by a further 500,000 tonnes over the next three to five years," said Justin Chadwick, CEO of the South African Citrus Growers' Association (CGA).
"Other key markets that have been identified for further growth and expansion are China, India, Philippines, Japan, Vietnam and the EU," he added.
The success of the South African citrus programme in the US is based on a comprehensive market development programme funded by growers in the Western and Nothern Cape.
Despite the impact of Covid-19 on this year's export season, all programmes are running well. Citrus is on target to export a record volume and apples, the other major category affected by the virus in its peak season, will export more fruit than last year.
For the US, the clementine season has been completed. The industry is now in full production of later mandarin varieties, which will arrive in the US on weekly conventional and container vessels throughout August and September.
"There has also been an increase in the shipment of oranges, in particular summer navels, due to a growth in demand from US consumers, which has more than likely been as a result of the Covid-19 pandemic and people wanting to consume more Vitamin C," said Suhanra Conradie, chief executive of Summer Citrus.
"The Covid-19 pandemic and national lockdown has presented some logistical challenges for growers exporting from the Cape Town port to the US over the past few weeks,' Conradie noted. 'However, Summer Citrus, along with its partners has managed to adapt to these supply-chain issues fairly quickly. As a result we have been able to continue shifting the volumes planned at the start of the season.'
"South Africa is now the second largest exporter of fresh citrus fruit in the world, despite only being the eleventh largest producer," Chadwick explained. "This impressive achievement is largely as a result of close collaboration and partnerships within the industry, including the Summer Citrus group.
'The industry is expecting to export a record 141.3m cartons of citrus season in 2020,' he added. 'The Citrus Growers' Association looks forward to continue working with all growers, including the Summer Citrus group, to increase job creation and contribute to increase growth in the country.'