Minister visits port to focus on challenges presently experienced there and promises commitment to improve the situation
South Africa's Public Enterprises Minister, Pravin Gordhan, paid a visit to the port of Cape Town last week in a clear sign that the government is taking the logistical problems at the port seriously. Ongoing challenges have come at great cost to the South African import and export economy.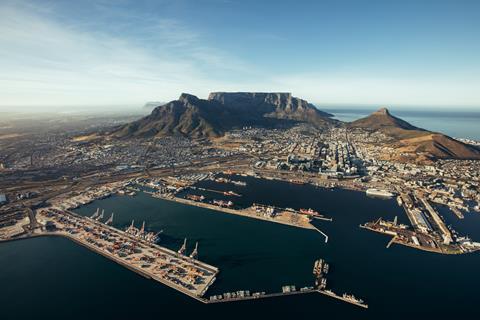 The visit comes after announcements earlier in the week that several shipping lines have introduced delay charges on containers arriving in the port.
Transnet acting Group CEO, Michelle Phillips, and Transnet Port Terminals (TPT) officials accompanied the Minister during the visit, where Gordhan met with representatives of the fruit industry to gain insights into the fresh fruit export sector and the vital role that well-functioning ports play in maintaining the industry's competitiveness.
The deciduous fruit export sector said in a joint statement with Transnet that these discussions provided important context for understanding the needs and demands of the industry as the fruit harvest season gets underway.
"The Cape Town Port Terminal (CTPT) plays a significant role in South Africa's economy, facilitating the export and import of goods both domestically and internationally," the statement said.
"As the deciduous fruit season gets underway, it becomes even more critical to ensure efficient operations at the port to prevent any bottlenecks or delays in exporting perishable goods."
In the statement, Gordhan expressed his concern about the challenges currently facing the port and reaffirmed the government's commitment to resolving these issues.
The minister emphasised the importance of close collaboration between the government, Transnet, and relevant stakeholders to overcome these challenges, and ensure the smooth functioning of the terminal.
Phillips, meanwhile, acknowledged the pressing need to address operational inefficiencies and pledged concrete actions to enhance the port's capabilities. She underscored Transnet's and CTPT's commitment to working closely with the deciduous fruit industry and other stakeholders to implement targeted improvements that will streamline operations and expedite the movement of perishable goods through the port.
According to the statement, the plans agreed on to improve the situation will include measures to address current operational challenges, invest in infrastructure development, optimise processes, and foster closer collaboration between the public and private sectors.
The minister and his delegation assured the public, the deciduous fruit industry, and stakeholders that concerted efforts will be made to enhance the port's functionality while maintaining the country's reputation as a reliable exporter of high-quality perishable goods.