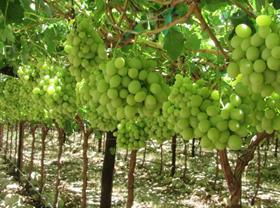 South Africa's table grape growers have had reason to smile amidst the doom and gloom of Covid-19, having exported nearly 66m cartons this season, just short of the record export crop of 2016/17.
The season concluded just as the effect of Covid-19 was being felt in South Africa.
Most regions met targets set at the start of the season in the first forecast. However, in the Northern region and the Hex River Valley, rain reduced the crop and ruined the prospects of what could have been their biggest ever export crop.
The first crop estimate had a seemingly wide range with intake volumes estimated to be between 61.05m and 67.8m cartons. When SATI, the industry's grower body, announce the final volume it is expected to settle on 65.9m cartons.
SATI said that overall, the lower than estimated intakes in some regions were more than covered by other areas exceeding their forecast.
"This once again points to the favourable geographical and climatic diversity of South Africa's five growing regions,' SATI said.
Unusually high and continuous rainfall in the Northern Provinces region saw volumes there dropping by 14 per cent compared with last year.
The region, which opens the South African season, eventually exported just more than 6m cartons.
Unseasonal summer rain in week 4 in the Hex River Valley caused damage to mid-season grapes in particular. With the final figure not confirmed yet, the Hex still managed to export more than 20m cartons.
Elsewhere, the Berg River region had one of its best seasons ever, exporting the biggest crop in its history. The Berg River had the most favourable weather conditions during the season, and its 16.27m cartons was an 18 per cent increase compared to last year.
The Orange River region fell just short of 20m cartons and the Olifants River region, the hardest hit by the drought between 2016 and 2018, had a great recovery, with 40 per cent more exports this year.
Exporters said that they generally saw a strong recovery in market conditions compared with last year.
Although some shipments to China and the east were reduced due to the early impact of Covid-19, demand elsewhere accommodated additional volumes.