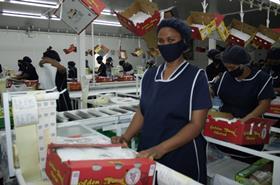 The South African table grape industry's pilot promotion in China is due to start next week after some delays in shipping.
SATI chairperson Anton Viljoen said the industry was excited by the development and believed it was the start of great things for the development of the country's sales in China.
"We believe it is important to promote the origin of South African grapes as leading suppliers to the eastern markets, particularly in China where we have for some time been planning these events,' said Viljoen.
SATI spokesperson Clayton Swart had previously told Fruitnet that the pilot promotions for South African grapes reflected confidence in the Chinese market, while also signalling determination to diversify sales outside of traditional markets.
Swart emphasised the fact that the development of China for South African table grapes was of strategic importance to all growers and exporters, hence the decision to promote under one umbrella of origin.
It is anticipated that South Africa will export more than 10m cartons to China annually within five years. "We want to be significant in China and in doing so create more jobs and earn around R1.3bn from this market."
It has not been easy for the South Africans to reach this point. Last year they were on the brink of starting promotions for the first time when Covid-19 intervened.
Ironically, this year the emergence of China out of Covid-19 and resultant changes in international shipping trade have caused shortages of containers and changes to shipping routes which again slowed things down. This has delayed the start of promotions.
"We packed our best grapes in specially designed cartons for these pilot studies," Viljoen explained. "We are confident that the grapes, as well as our unique story about South African grapes, will be well-received by both the trade involved and consumers.'
SATI previously confirmed that the promotions will initially focus on two to three wholesale markets, including Guangzhou Jiangnan and Shanghai Huizhan markets. SATI will also be working with at least two retailers in this first year.
The table grapes offered to Chinese consumers originate from the Western Cape, where the Berg River Valley and the Hex River Valley are the late season suppliers.
The promotion is arranged in association with the country's exporters' forum, exporters and funding from the Western Cape government.